Summary
In a recent paper Princeton University researchers presented the idea that Facebook will lose 80% of its users within three years time. This blog looks at Facebook's global growth and provides an analysis of its position, threats and opportunities from various aspects: cultural, technological, demographical and competition.
In paragraphs below we will be taking a critical look at Facebook's business model, future of their desktop advertising, its apparent successful entry in the mobile advertising space and their challenges moving forward.
Thanks for reading!
Princeton University Report
On the 17th of Junauary 2014 Princeton University released a paper (Epidemiological modeling of online social network dynamics) in which they analyzed the adoption and abandonment dynamics of Facebook by drawing analogy to the dynamics that govern the spread of infectious diseases. According to this study Facebook will lose 80% of its user base by 2017.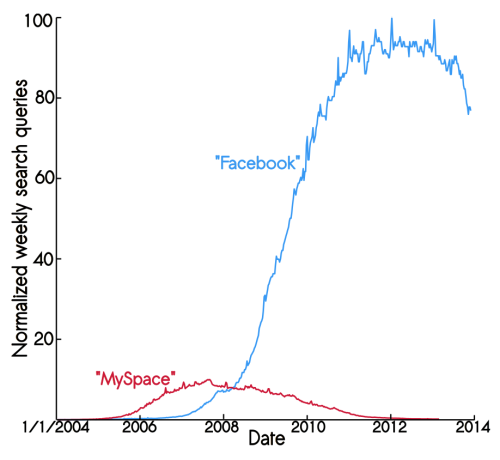 Princeton's study compares Facebook to MySpace in their rise-and-fall, as shown in the graph below.
Data Scientists from Facebook, obviously not too happy with being compared with an infectious disease, used Princeton's methodology to debunk its report concluding that Princeton would lose all of its students by 2021. You can read Facebook's debunking effort here.
Princeton's report is not yet peer reviewed and the research method maybe questionable to some people. But either way, the developments surrounding Facebook in the past year are far from comforting for its investors and share holders.
Is Facebook in trouble of losing its dominance in the market for social media? This blog aims to provide an answer to this question based on current facts and a global view on the social network.
One of the reactions to the Princeton's report came from the social media evangelist, self-taught wine expert and the best-selling author (The Thank You Economy) Gary Vaynerchuk. In his article, he attempts to clarify why youth are shifting to other social nets by comparing social media to pubs and bars. Gary also states that it would be difficult for "average 45-year-old female" to switch over to another social network and so everybody else would stick around on Facebook.
Global Audience
Comparing Facebook with a bar or a club and making gender and age related statements about people's social habits, are generalizations. Comments such as Gary Vaynerchuk's are more based on assumptions than facts and at best address only a rather small user base. The situation around Facebook becomes more complex and interesting when you add a global perspective to the discussion.
The following graphic from Vincos.it gives you an idea of the current battle between social networks across the globe. Facebook has clearly managed to strengthen its position in South America and parts of Europe and North Africa in the past 4 years.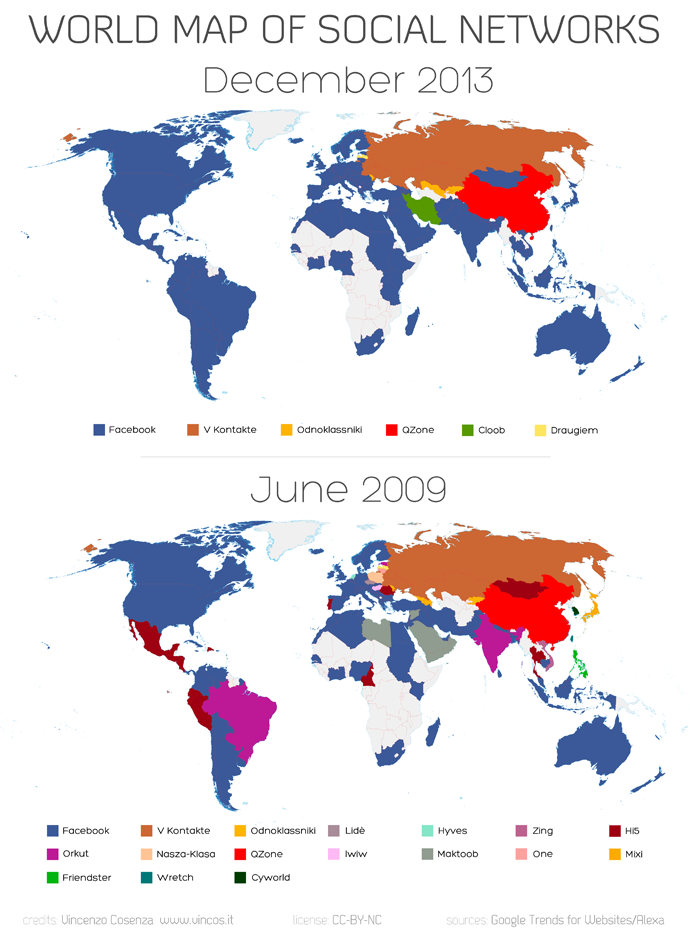 70% of Facebook
It may come as a surprises to most people when they find out that more than 70% of Facebook users come from regions outside US/Canda and Western Europe. This majority on the social network has different perspectives on society, people and communications which in turn influences their behavior and when and how they use Facebook. This will have implications for (mobile) advertising revenue as we will discuss later on.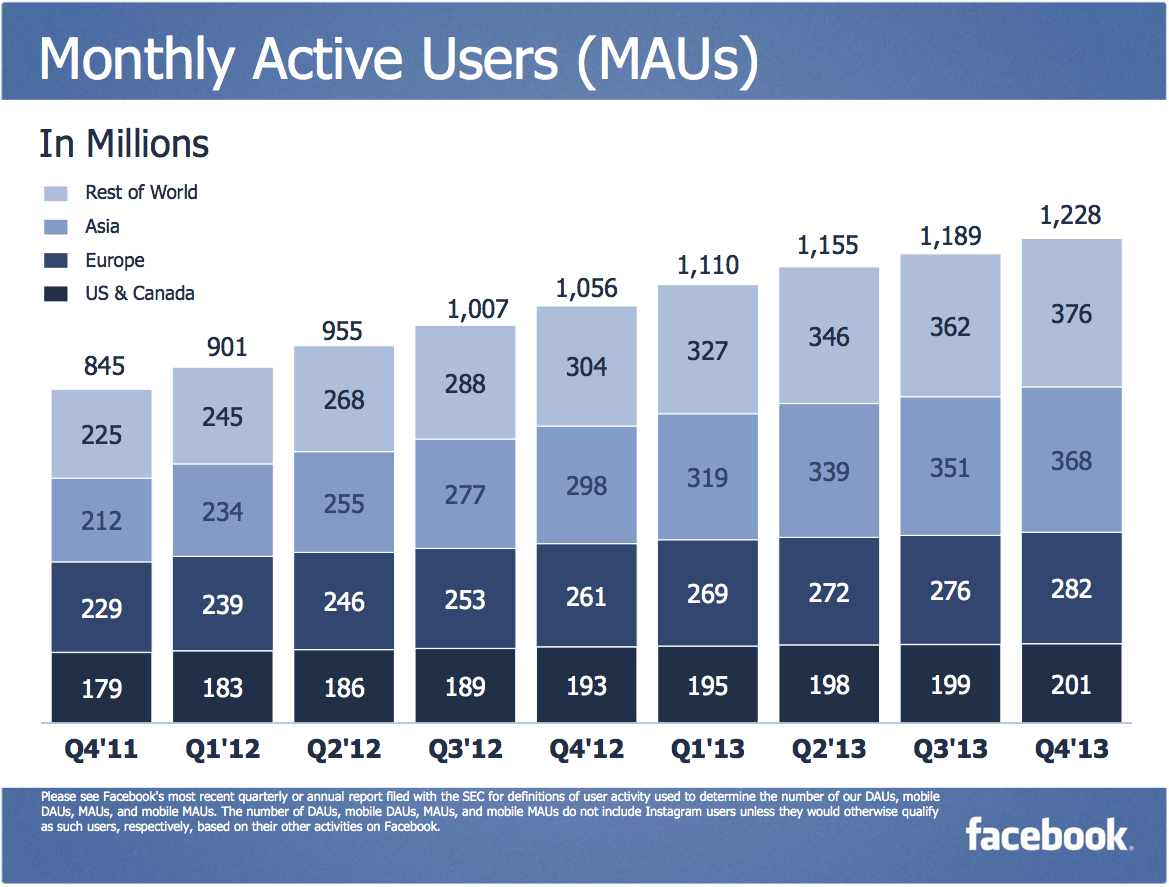 Facebook User Decline
In October 2013, Facebook admitted that young teens are losing interest in the site. This recent chart from statista represents the declining numbers in the US market. Statistics for the global youth users of Facebook are not that different.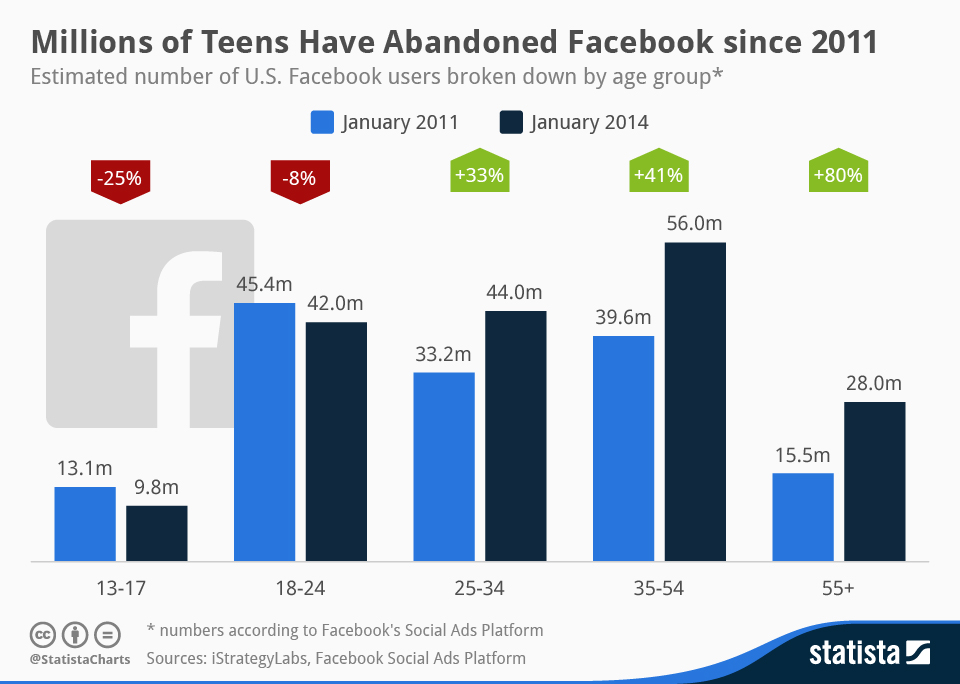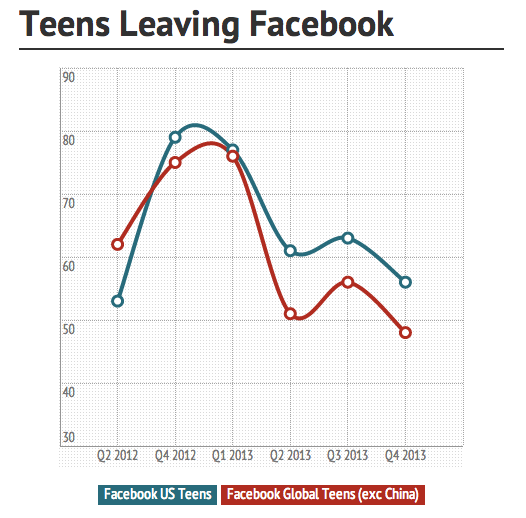 Other demographics have also been showing signs of boredom and concerns with the social network. A recent study from the University of Vienna (Who Commits Virtual Identity Suicide?) interviewed Facebook quitters and current users and revealed top four reasons for quitting Facebook as follows:
Concerns over privacy (48.3%)
General feeling of dissatisfaction (13.5%)
Meaningless and negative conversations with friends (12.6%)
Fear of addiction to Facebook (6%)
Youth is leaving Facebook and that the average age for a typical user of the social network is increasing. Taking into account that almost 70% of all Facebook users are indeed under the age of 30, Princeton University's model is not too far fetched.
But there are more worries that keep Mark Zuckerberg awake at night.
Facebook Business Model
Is Facebook's business model future-proof?
Facebook relies on traditional internet business model of displaying ads. Facebook depends on advertising for 90% of its revenue.
Display advertising is widely known for degrading user experience and its lack of efficiency. In comparison with Google, Facebook users are 56% more engaged and generate far more page views but Facebook generates only 1/8th of Google's annual revenue ($7,872 billion vs. $59,82 billion). This can be explained by the fact that Google's core business of search and keyword advertising happened to benefit both users and advertisers.
However, Facebook offers far more locations to place ads and has the potential to deliver targeted ads. In an attempt to make their ads and placements more "relevant" Facebook is increasingly tapping into user's personal data and interactions on the social network to create a more accurate user profile for its advertisers. This has led to privacy concerns (as we will discuss later in this blog) and has caused a number of law suits to be raised against Facebook in recent years, some still ongoing.
Facebook is widely perceived as a place to socialize with friends. When you are looking to buy a product you could accept a certain level of advertising (Google) but when you are socializing with your friends advertising is not very well received (Facebook). This is also exactly the challenge for Facebook. When people engage in conversations on the social network they usually have no intention of buying anything. As a result, user will ignore all advertising placed on the sidebar or on their message feed let alone when these are served on their "personal" message feed, which can lead to alienating users.
While revenue from desktop advertising has been in decline, Facebook seemed to have successfully positioned itself in the mobile advertising ecosystem, or have they really? Read further down this blog for more on mobile advertising.
Facebook on Mobile
Facebook has been struggling with their mobile strategy for a number of years until Mar Zuckerberg announced his "Mobile First Strategy" for Facebook in 2013. Investors now have something to be excited about because as of January 2014, 53% of Facebook's revenues come from mobile advertising. Facebook is now putting all its bets on its smarphone users. But is the rapid success on mobile sustainable for Facebook?
Effectiveness Of Mobile Ads
Mobile advertising has not been successfully applied to any brands yet. There are a number of reasons for this. Consumers have an intimate and personal relationship with their mobile devices. They usually spend an awful amount of time customizing it with apps, themes and settings such that it fits their liking. When a brand takes over your mobile device by ads you have not asked for and when you accidentally click on a pictures which takes you out of the application you were working on and takes you to a website with annoying commercial messages you will hate that brand rather than liking it. This has been a major issue shown by Comedian Harrison Greenbaum in the following video.
As a report from GoldSpot Media states, up to 50% of the clicks on mobile banner ads happen by accident or because of the so called "fat finger" taps. The same report mentions that the accidental clicks are comparably less when the advertising message is presented using rich media is used instead of static banners. But either way, what this basically says is that the effective clickthrough rates are far less than advertisers think and that the number of clicks on a mobile ad may not be a good measure for succes.
Facebook's News Feed
Facebook has been widely criticized in the past for its reckless mobile advertising strategy. In order to avoid making the same mistakes as others before them Facebook has found a creative solution to place their mobile ads.
Facebook now offers "sponsored apps and messages", allowing app developers and advertisers to insert their messages on the News Feed of Facebook for smartphones. This choice is suitable for Facebook for a couple of reasons: first, you cannot miss it as you have to scroll through it while reading updates from your friends and second because they offer more information and large enough to be easily clicked on. Facebook also ensures that these ads are similar in appearance to other posts so they do not stand out as advertising messages.
These "mobile app install ads" have been the main driver in the boost of mobile advertising revenues for Facebook.
Facebook Mobile Dilemma
For now Facebook seems to have found a way to convince advertisers that their money is well-spent on Facebook's ad inventory. Facebook's mobile advertising has skyrocketed within a year time, going from almost nothing to being more than half of Facebook's advertising revenue. Whether this is sustainable in the long-term remains to be seen but this is also a point of no return for Facebook.
Almost two-third of users log into Facebook daily using their smartphones. Facebook cannot afford annoying its users with advertising, which will discourage them in using Facebook on their mobile devices. With competition gaining strength from other social networks and various regions of the world it will be disastrous for Facebook if their mobile strategy does not deliver its promise.
Culture and Local Markets
A look at the current Average Revenue per User figures tells us that Facebook has difficulty making money anywhere else outside the US and Europe and the revenues are already leveling off in North America and Europe.
The only Facebook growth opportunity for new users and increased revenue would have to be in Asia and Rest of World outside EU and US. Despite its impressive global dominance this will not be an easy ride for Facebook.
As we saw earlier, the majority of Facebook users (over 70%) hold different views on society, communications and value, than that of the users in Western countries. Discussions about the future of Facebook or any other social network should therefore be put in an appropriate cultural context for it to make sense.
Social Media mean different things to different cultures. Making assumptions and generalizations based on our personal references would be a naive thing to do if we are making strategic business decisions. Social media experts and gurus are largely based in US and Europe with a Western view on marketing, brand engagement and image building on social media. However, much of those theories are not applicable to Asia, Africa and South America where most users come from.
Asia is a key growth region for Facebook in terms of new users and advertising revenue. Next we will look at a couple of major markets in this region to asses Facebook's positioning.
India, The Second Largest Facebook Country
While banned from the largest economy in the region, China, Facebook is focused on India for further growth.
As of January 2014, India is the second largest country in terms of Facebook user base with 92 million users. By June 2014 the number of internet users is said to reach 243 million with a potential of 185 million users accessing the web through their mobile devices. Facebook adoption in India is set to rise but as it turns out users from India would not like to share much personal information on the social network. Over 80% of the Facebook users in India are under the age of 34 (which we can consider as young) but more than half of them does not even bother to provide their relationship status online, as you can see in the chart below.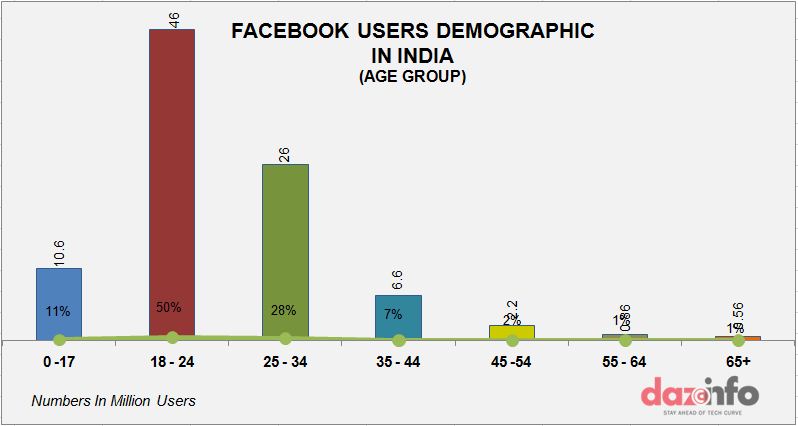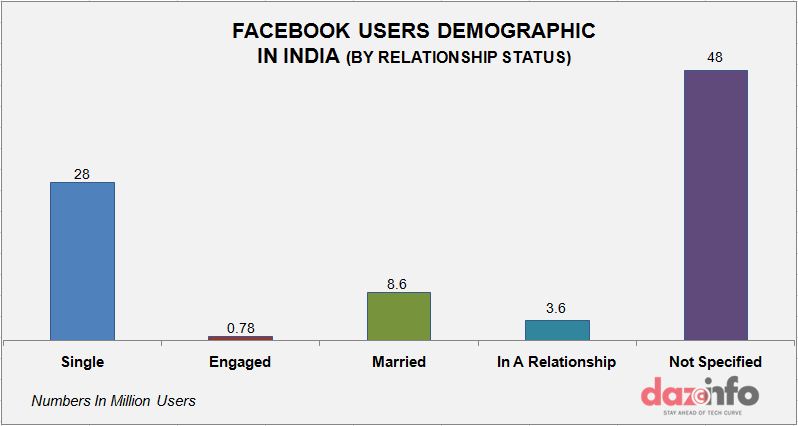 While it is very common in the Western countries to share personal information, likes, dislikes and pictures and engage in conversations with loose online connections this is not the norm in India. It is well-known that people in India talk openly about their personal life among themselves but that does not go beyond their social circle. While online they are certainly more careful about their persona and how much and what they share.
As a result the personal online profiles of Facebook users in these regions probably include less relevant information (and sometimes inaccurate as the case above) for advertisers to deliver them targeted messages. This will introduce a new challenge for Facebook. Despite owning millions of users it will not be able to turn their data into money by selling them to advertisers.
Obviously, we cannot generalize the situation in India to other countries in the region. But this just goes to show the type of cultural factors that could have negative influence on successful business models developed in totally different regions of the world.
China
Chinese social networking market is rather closed to international players but includes a large number of local companies.
The local competition in this market is expanding is business beyond China and could form a serious threat to Facebook in coming years. Chinese culture is an influential factor in how Internet, Social Media and Mobile are used in the region.
Design Mind, citing an April 2012 McKinsey report, points out that China is the world's most active social media population. According to McKinsey, 91% of those connected to the Internet have visited a social media site during the last six months, compared with 30% in Japan, 67% in the United States, and 70% in South Korea. McKinsey found that 95% of Chinese living in Tier 1, Tier 2, and Tier 3 cities are registered on a social media site, and that Chinese consumers spend 46 minutes a day visiting social-media sites, compared with only seven minutes in Japan and 37 minutes in the United States.
At the end of October 2013 the number of Chinese mobile phone users hit 1.22 billion of which 817 million are connected to the Internet.
A recent report from IAB compared the role of mobile in a typical day in the life of a consumer in US and China. While both countries have very high mobile penetration figures people use their smartphones in very different ways. In United States smartphone is viewed as an extension of one's self and identity while in China smartphone is viewed as a practical tool and as an extension into the world.
Chinese culture is based on strong social relationships while American culture encourages individuality and lose social relations. Chinese could easily leave their smartphones at home and still have a normal and social day while Americans have a greater dependency on their smartphones and would feel less complete without them. This is shown in the chart below.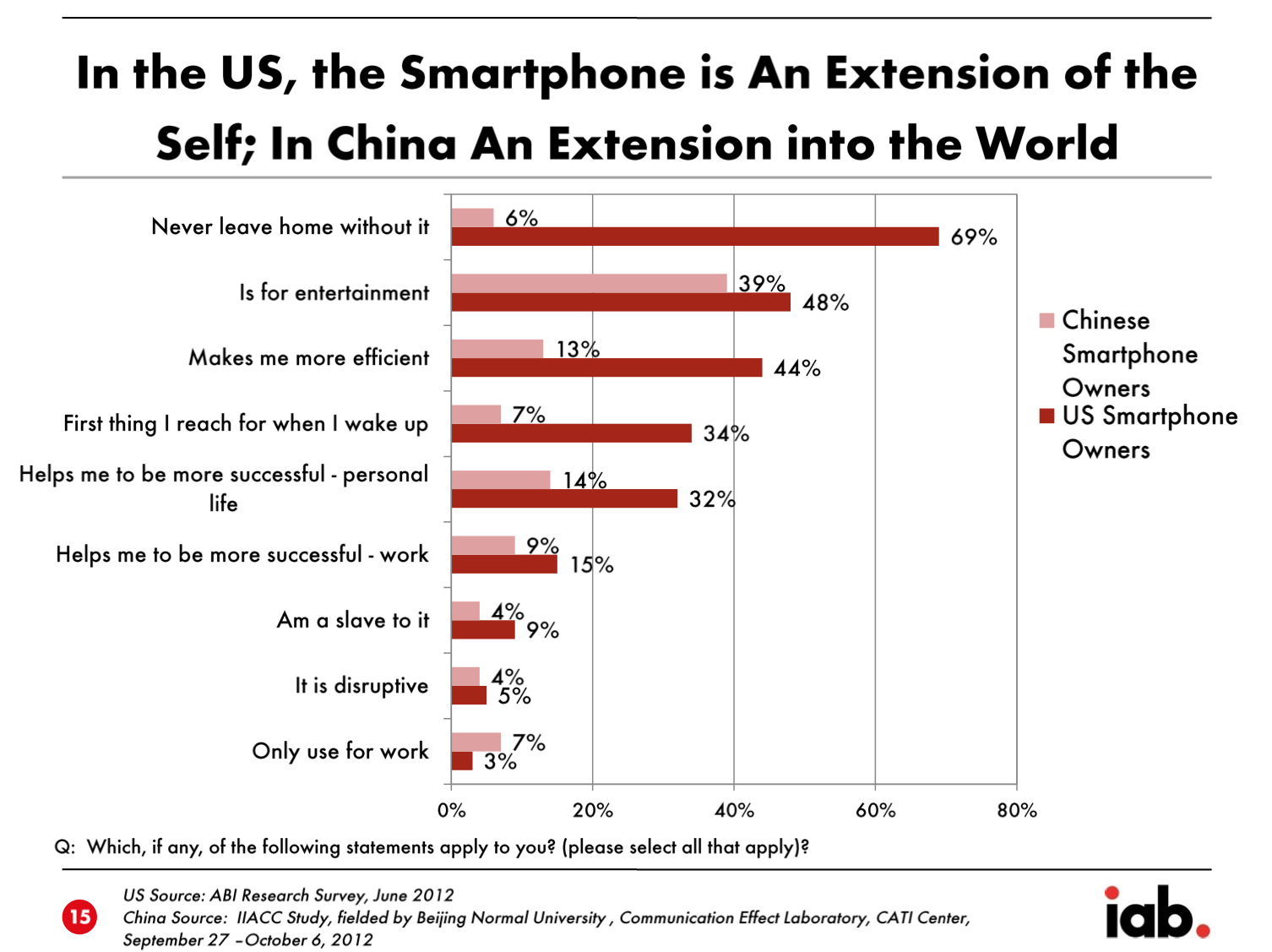 Another interesting outcome of the IAB report was that Chinese smartphone owners are less likely to interact with Ads than Americans.

Competition
Chinese smartphone app WeChat/Tencent has about 1.05 billion users, 100+ million of those outside China and this number is growing. WeChat ambitions to expand their service beyond China can become a threat to Facebook. WeChat also has the advantage of having been a mobile application from the outset, something that Facebook is still struggling to cope with.
An increasing number of Chinese consumers are using their mobile devices to make payments. On November 2013 the size of the mobile payments market exceeded 130.4 billion U.S. dollars. As a consequence WeChat has integrated a mobile payment solution into their application which goes to show the level of technology that Facebook would have to compete against.
WeChat has established a strong position in South Africa and have been investing heavily in growth markets of South America and India, that also happen to be growth markets for Facebook. The following commercials involving high profile celebrities from these regions can be seen as a sign that WeChat is serious about their global ambitions.
WeChat Ad For India:
WeChat Ad For Italy:
WeChat Ad For South America:
And then there are paid mobile apps such as Whatsapp with 400 million users (no advertising) and the Japanese Line with 250 million users worldwide, taking users away from the social network.
Future of Facebook
Although things may look promising for Facebook with 1.2 billion users worldwide it is not going to be an easy ride for them to actually materialize on their numbers. Even though Facebook is well established, it is still very vulnerable to competition from new social sites and messaging apps. But, as Princeton's study suggests, Facebook is going to grow first before it starts its sharp decline beyond 2015.
As of January 2014 Mobile Advertising represents more than half of Facebook's Ad Revenue in Q4 2013 with Desktop Ad Revenue declining rapidly. This may sound positive at first but it is actually worrying for Facebook. Facebook has had a history of struggling with their mobile strategy and as we saw earlier competition already has a much stronger position in this field.
Facebook's future now depends on the mobile channel, where it has the least experience with, and the Asian market where it has the least knowledge of and not to mention the toughest competitions.
And yet other challenges are piling up as well. On the one hand they have to deal with increasing privacy concerns and on the other hand they are alienating users with unwanted ads while trying to keep investors happy.
The future of Facebook is far from being clear despite their current promising figures.
Where do you think Facebook will be in 3 years time?
Thanks for your visit and I would be eager to hear your views.